You can't stop something you can't see. In today's world, threats are evolving constantly and prevention tools like anti-virus, firewalls, IDS/IPS and sandboxes are unable to stop infections that they haven't seen before. Core Network Insight is different. It fills the gap between failed prevention and your incident response. 
Core Network Insight:
Network Insight is an automatic breach detection system that detects successful infections with certainty, terminates their activity and gives responders the ammunition needed to rapidly prevent loss. Network Insight observes network communications from endpoints within the customer's environment destined to / from the internet.  It identifies when those communications are occurring with external systems intent upon exploiting those devices for criminal purposes (threat actors). It delivers KPIs for Infected Endpoints, Malicious Files and provides Organic Threat Intelligence.
Network Insight delivers actionable information about known and unknown threats regardless of the infection's source, entry vector or OS of the device. It arms responders with definitive evidence so they can rapidly prevent loss on high-risk devices while blocking activity on the rest. All of this goes back to being able to see what threats are coming so that you can stop them. This is all about visibility.
Imagine the funnel of data that flows through your organization:
Data
There are over 8 trillion unique, new DNS records recorded annually and millions of malware samples analyzed weekly
Information
Network insight analyzes the network traffic using patent-pending communication and risk profilers to narrow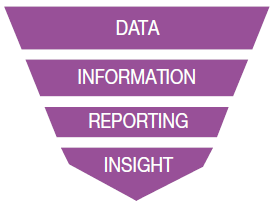 down what devices on your networks are communicating with notorious malware families and prioritize them
Reporting
Once the information is analyzed it is given to a Case Analyzer to determine the certainty of the infection status. These aren't alerts for possible breaches, they are actual infected devices along with the threat actor it is communicating with and what the prioritized infected devices are
Insight
Responders are provided with a definitive verdict and forensic evidence about infected devices and their risk level. With this information you can tell exactly what devices need to be remediated and act immediately, in real-time, to stop data loss.