Introducing the Visual Identity Suite
We all know that there are clear problems in the industry when it comes to role design and entitlement certification. Problems like:
Lack of visibility: Most entitlements and user access logs are kept in spreadsheets, whether on their machine or in an online tool, and it is too much of a chore to pour through all of them in order to see who has access to what.
Lack of accuracy: Again, with endless rows of data to pour through and hundreds of thousands of entitlements across the organization, there is just too much data to accurately approve. This leads to the all too familiar practice of rubber-stamping everyone's access without the context to understand if they need it or not.
Lack of efficiency: As you can imagine (or as you've witnessed) this process simply takes too long and even when you are finally finished, the data has, most likely, already changed.
To help solve these issues, Core Security announces the Visual Identity Suite which addresses 2 critical parts of the IGA process, surrounding:
The Creation of Roles with an organization
The Certification of proper access to end systems
With the Visual Identity Suite, you can go beyond the spreadsheet madness. With Visual Identity Suite, you get a graphic visualization where you can clearly and quickly see common user entitlements and outliers. This makes it easier to take immediate action. Whether seeking to simplify a certification process or design roles more efficiently for true role-based access control, Visual Identity Suite provides the tools to save time, improve accuracy, and boost employee efficiency
Text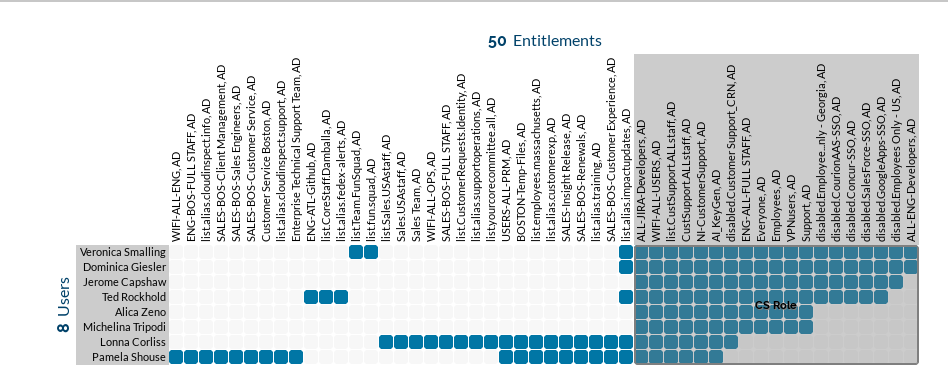 Our visualization-first approach allows role creators to make intelligent decisions about which entitlements should be included in a role, and which users should be assigned to this role. Core Role Designer's visualization capability shows logical groupings of people and entitlements that give you the intelligence, power, and control to create the right roles for your organization in a timely manner. Having the ability to literally 'see' any role, it's entitlements, and how it's changed over time to meet organizational needs is of great benefit to an organization seeking to continually improve roles and role management. With no services required to deploy and the ability to work with any existing provisioning and governance system, why not make this powerful improvement?
Text
Access reviewers suffer from certification fatigue. There are too many certification reviews, too many entitlements, and it takes too long. Without contextual information, managers make decisions in the dark or simply give up and "approve" everyone. This "rubber stamping" practice leads to inappropriate access and a less secure organization. With Core Certify, there are no more endless rows to look through or antiquated data to work from. Our visualizations show you exactly what each user's entitlements are, even nested or hidden entitlements, in a clear and concise view. The ability to "see" common grouping (or clustering) of like entitlements, as well as outliers, promotes immediate awareness and action, rather than working through days/weeks of data to figure out correlations and common access. Seeing is believing and helps review managers quickly understand common access and dangerous outliers, while better encouraging actions to mitigate risk.