Visual Identity Suite Integrations
Powerful integrations that streamline data collection, role assignments, and access remediation
Text
Organizations rely on enterprise applications, platforms, and systems to effectively run their business. Being able to manage user access and directly integrate with the critical data in these applications is essential. That's why Core Security offers identity governance and administration solutions that directly connect to the data in your enterprise applications, so you can manage and simplify the complicated, tangled web of user rights, permissions, and accounts, and keep track of who and what are most vulnerable in your environments.
Seamlessly Integrate Your Enterprise Applications with VIS
The Core Security Visual Identity Suite (VIS) is a cloud-delivered identity governance and administration solution that enables organizations to visualize what access looks like in their business.
VIS provides intelligent role-based access controls and streamlines access certification through two modules, Core Role Designer and Core Certify. With an easy-to-use graphical interface, VIS clearly shows common entitlements and quickly reveals outliers, helping IT teams, managers, and security professionals make informed decisions about who has access to what.
The Key Integration Advantage of VIS
Visual Identity Suite directly integrates with the most popular platforms, systems, and enterprise applications available today, including:
Amazon Web Services
Microsoft Azure Active Directory
Microsoft Active Directory
SSO providers like Okta
IGA providers like Core Security and SailPoint
PAM providers like Core Privileged Access Manager (BoKS)
Key Benefits of Integrating with VIS
Collect Data Seamlessly
Easily Remediate Certification Data
Streamline Role Assignments
Featured Integrations with VIS
The Visual Identity Suite leverages end-to-end integrations with the most popular platforms, enterprise applications, systems, and identity providers available today. These powerful integrations streamline data collection, role assignments, and access remediation, ensuring you can easily integrate critical data from your most important applications into VIS.
Microsoft Azure Active Directory
CTA Text
Learn How the Visual Identity Suite Boosts SailPoint Identity Management >
Learn More
How Do Integrations Work with the Visual Identity Suite?
The Visual Identity Suite integrates with the most widely used platforms and applications, and directly pulls data from the target systems into VIS.
Once our data collection utility tool is installed, and your credentials are authenticated, you can seamlessly import entitlement data from applications like AWS, Azure, Active Directory, Okta, or SailPoint, and then use it directly in either Core Role Designer to assign role entitlements or in Core Certify to remediate access certification data.
Image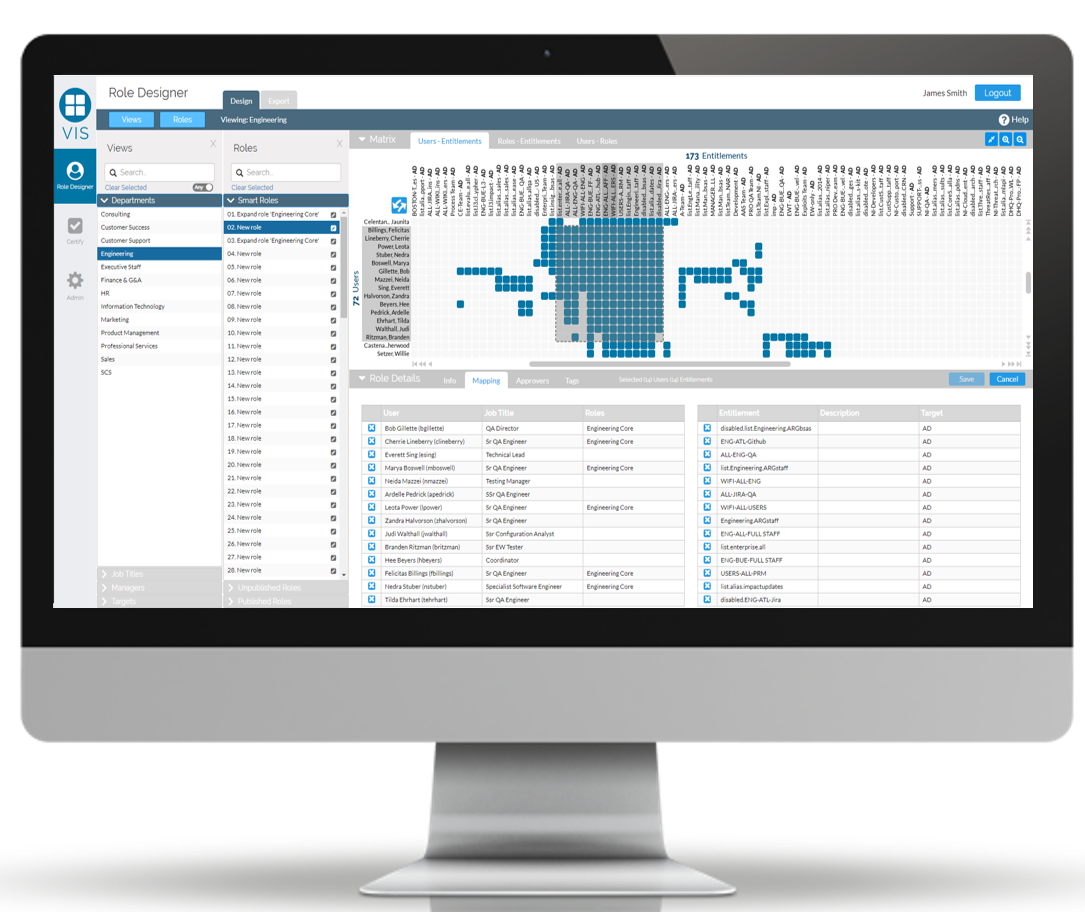 See the Visual Identity Suite in Action
CTA Text
Learn how you can easily integrate critical data from your most important enterprise applications into VIS.
REQUEST PERSONALIZED DEMO