SailPoint Integration with the Visual Identity Suite
Augment your current identity governance solution to streamline data collection, role creation, and access reviews
Seamlessly Integrate SailPoint with the Visual Identity Suite
Text
SailPoint provides organizations with identity governance and cloud identity management software, helping them solve challenges in user provisioning and governance. But an identity governance solution is only as good as the policies it can enforce. It is often difficult to build the role-based policies needed to enforce a least privilege model for risk management. A true role-based access control (RBAC) model needs a clear and accurate way to build roles.
The Visual Identity Suite (VIS) from Core Security seamlessly integrates with SailPoint—ensuring you can build the role-based access policies needed in a proper RBAC solution deployment. VIS easily connects to the data within your IGA deployment to boost capabilities for role creation and access certification. Our powerful SailPoint integration enables you to easily integrate critical entitlement data, streamline role assignments, and efficiently review access, so you can enforce least privilege access in your business.
What Are the Benefits of Our SailPoint Integration?
Our integration with SailPoint enables organizations to supercharge their identity solution by providing powerful capabilities for role development and for access certification processes.
Collect Data Seamlessly
Streamline Role Creation
Easily Review Certification Data
How Does Our SailPoint Integration Work?
Image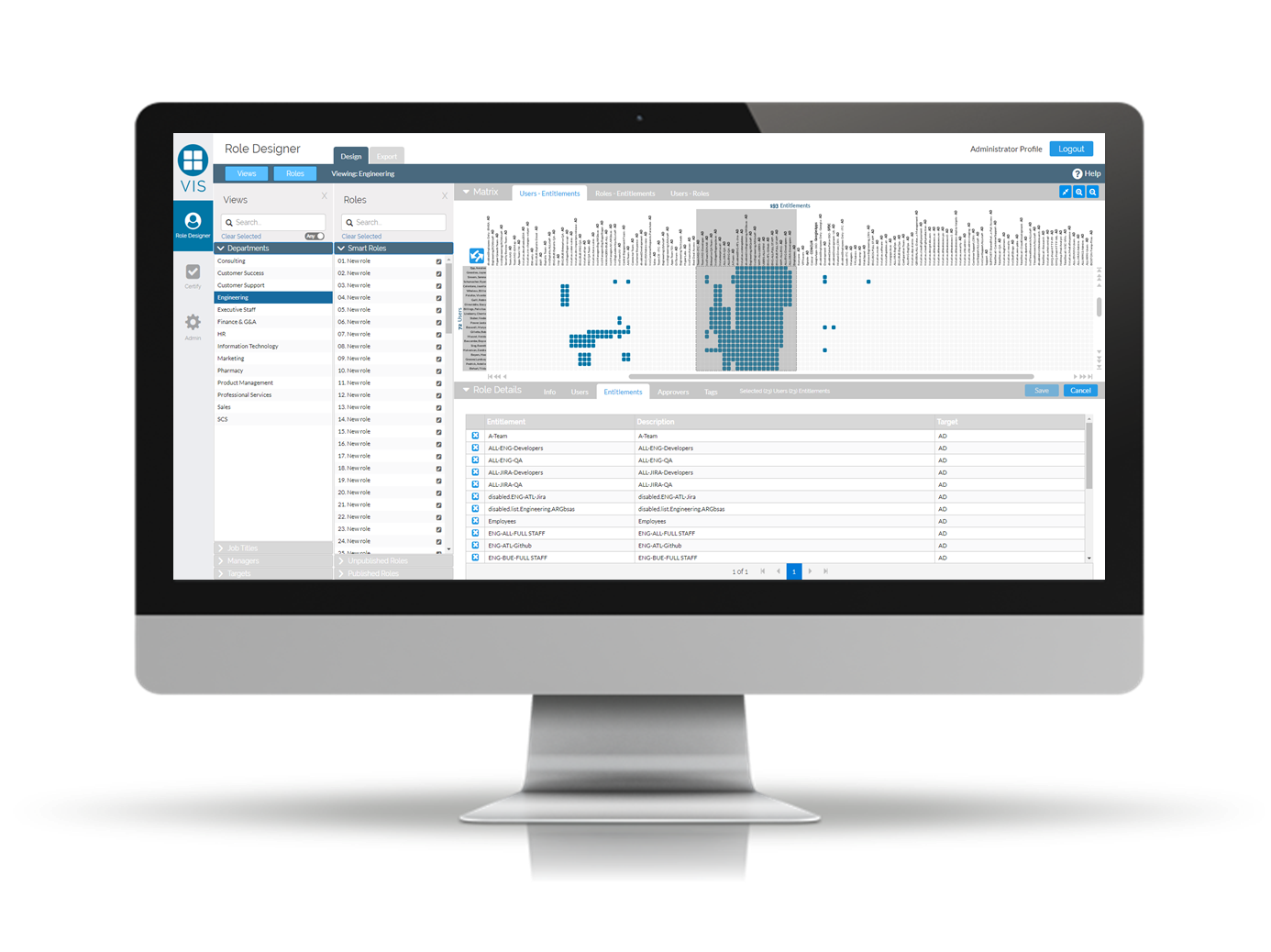 How Does the Visual Identity Suite Boost SailPoint Identity Management?
The Visual Identity Suite boosts your existing SailPoint solution by empowering you to see user privileges and access certifications in a new way—leveraging an intelligent, visual-first approach. By providing an easy-to-use graphical matrix, you can see common user entitlements and quickly identify outliers to make informed decisions about who has access to what. Offered in a cloud-delivery model, the Visual Identity Suite integrates directly with SailPoint and includes the following two product modules:
Core Role Designer offers a modern way to build roles, making it easy to see patterns of access that should define roles by examining the clusters of access across individual users. Common access clusters establish a clearly defined role.
Core Certify enables you to instantly group like-access together to simplify the access review and certification process. Easily accept or reject clusters of access—with just a few clicks—saving time, increasing accuracy, and reducing certification fatigue.
See the Visual Identity Suite in Action
CTA Text
Learn how easy it is to integrate critical data from your SailPoint deployment into the Visual Identity Suite.
REQUEST PERSONALIZED DEMO