Five Major Drivers of IGA and PAM for Financial Services Organizations Today
Financial services information security continues to be a top priority across the entire financial sector—and for good reason. The Verizon Data Breach Investigations Report found that financial profit or gain was the primary motivation in 71 percent of all information security incidents, making financial services organizations a prime target for attack.
According to the Bitglass' Financial Breach Report, of all the breaches that occurred across industries, only six percent of those breaches happened within financial services organizations, but more than 60 percent of all leaked records were exposed by financial institutions. One reason for this, according to the Verizon Data Breach Investigations Report, is that the use of stolen credentials on banking applications is common in financial services. In fact, 72 percent of data breaches across the financial sector arise from web applications, privilege misuse, and miscellaneous errors.
The rise of financial services technology (fintech), coupled with increased cyberthreats and cyberattacks across the industry, means these organizations must continue to pursue strategies and programs that protect sensitive financial information. One of the most effective ways to secure sensitive information is through strategic Identity Governance and Administration programs and solutions that offer an intelligent path to mitigating identity and access-related risks. IGA helps ensure financial organizations have increased visibility into the identities and access privileges of their users, so they can intelligently and consistently manage who has access to valuable financial data and systems.
Just as important is protecting privileged accounts through Privileged Access Management (PAM) solutions. Because administrator accounts have elevated privileges that can access valuable financial data and execute applications or transactions—often with little or no tracking control—it can be very difficult to manage privileged accounts. PAM solutions centralize management of administrator profiles and ensure least privilege access is enforced to give users only the access they need.
Primary Drivers of Identity Governance and Privileged Access Management in Financial Institutions
The overarching challenges in the industry create significant roadblocks for financial services organizations today. They contribute to the need for establishing strong identity governance programs and PAM strategies that keep important financial data safe. So what are the primary drivers of identity governance and PAM today related specifically to the financial services sector? Let's take a look at the top five areas:
1) Meeting Ongoing Regulatory Compliance
Financial services organizations depend on IGA and PAM to demonstrate their compliance with governmental regulations and industry mandates. Identity governance helps prevent disclosure of personal and private information, enables financial institutions to attest to compliance with relevant regulations and standards, and more easily respond to audit demands. 
Image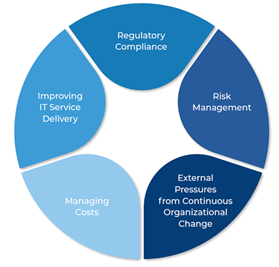 2) Managing Risks and Protecting Sensitive Data
To manage risk more effectively, financial services organizations use identity governance and privileged access management to enforce security policies, protect sensitive data from unauthorized access, eliminate excess privileges, terminate orphaned accounts, and uncover potential violations across the organization. By increasing visibility into the identities across their organization, financial institutions can more intelligently manage who has access to their valuable financial data and systems.
3) Responding to Organizational Changes
Continuous change within the financial services sector means that organizations need identity governance and privileged access management that empowers them to constantly manage external pressures. This means being able to more intelligently manage access-related activity, while supporting countless systems, networks, and applications during mergers and acquisitions, organizational restructuring, staffing changes, and other disruptions to the business.
4) Managing Organizational Costs
IGA programs and PAM solutions enable financial services organizations to streamline management of who has access and when, delivering the most efficient path to mitigating identity-related access risks. Identity governance and privileged access management also reduce reliance on helpdesk support and decrease audit-related costs. This empowers financial institutions to deliver better customer service and protect valuable financial information more efficiently across their entire environment.
5) Improving IT Service Delivery
Financial services organizations seeking to improve IT service delivery can rely on IGA and PAM solutions to onboard new hires faster, reduce administrative burden for managers, control privileged accounts, and streamline overall identity governance processes—enabling the organization to do more with less.
Start Your Journey to Intelligent and Visible Identity Governance and Administration
There is too much at stake for financial services organizations today to ignore the importance of implementing an intelligent identity governance program and privileged access management solution that mitigates access-related risks across the business. Investing in IGA and Privileged Access Management software from Core Security enables financial institutions to significantly decrease their risk of attack, supports streamlined regulatory certification and compliance, and increases operational efficiencies—keeping valuable data safe and organizations focused on providing exceptional experiences to customers.
Ready to learn more about protecting your organization in the face of change?
CTA Text
Download your copy of Doing Financial Services Identity Governance & Privileged Access Management Right: The Ultimate Guide for Managing It today.
Get the Guide