Network Insight Trial
Immediately detect critical threats other solutions miss.
Discover critical threats in just a few clicks!
Try out Network Insight today with a free 30-day trial. You'll quickly be up and running using a virtual deployment of a demo environment and thorough step-by-step documentation.
From there, you'll be able to use demo data to see how your organization can benefit from the advanced threat intelligence and real-time actionable detection that Network Insight provides for every device in the network.

Here's how it works:
Fill out the form.
Upon completing the form with valid business contact details, you will receive an email including download files and helpful resources to get you started.

Install Network Insight and apply your trial license key.
Simply download the trial on your hardware. Supported environments include Hyper-V, VMware, and VirtualBox. 4 Cores, 8GB RAM, and 256GB of disk space is needed.

Start detecting threats!
You'll have access to the product for 30 days and you can use our self-guided documentation to become familiar with the solution.
Take the first step in pinpointing the critical threats in your network.
Image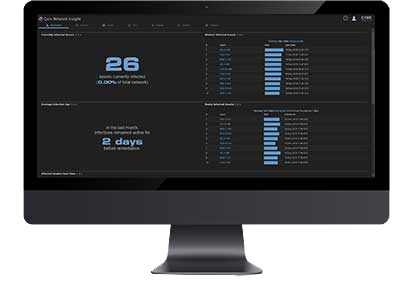 Network Insight is a robust Network Traffic Analysis (NTA) tool that automatically detects, analyzes, and confirms infections in real time. Network Insight stands apart from other solutions with features like:
Round-the-clock observation to monitor for behavior indicative of infection
Multiple detection engines instead of a single baseline
A threat intelligence database with over 15 years of evidence
Agentless functionality to provide coverage for every device, including high end IoT
Thorough security and compliance reporting