Core Impact 21.2: Incorporating the MITRE ATT&CK™ Framework and Attack Map Enhancements
The latest release of Core Impact has arrived! Version 21.2 underscores our alignment with the cybersecurity community, incorporating the MITRE ATT&CK™ framework to provide further insights into security weaknesses. We've also added additional features to Core Impact's attack map, making the penetration testing process even more intuitive.
Image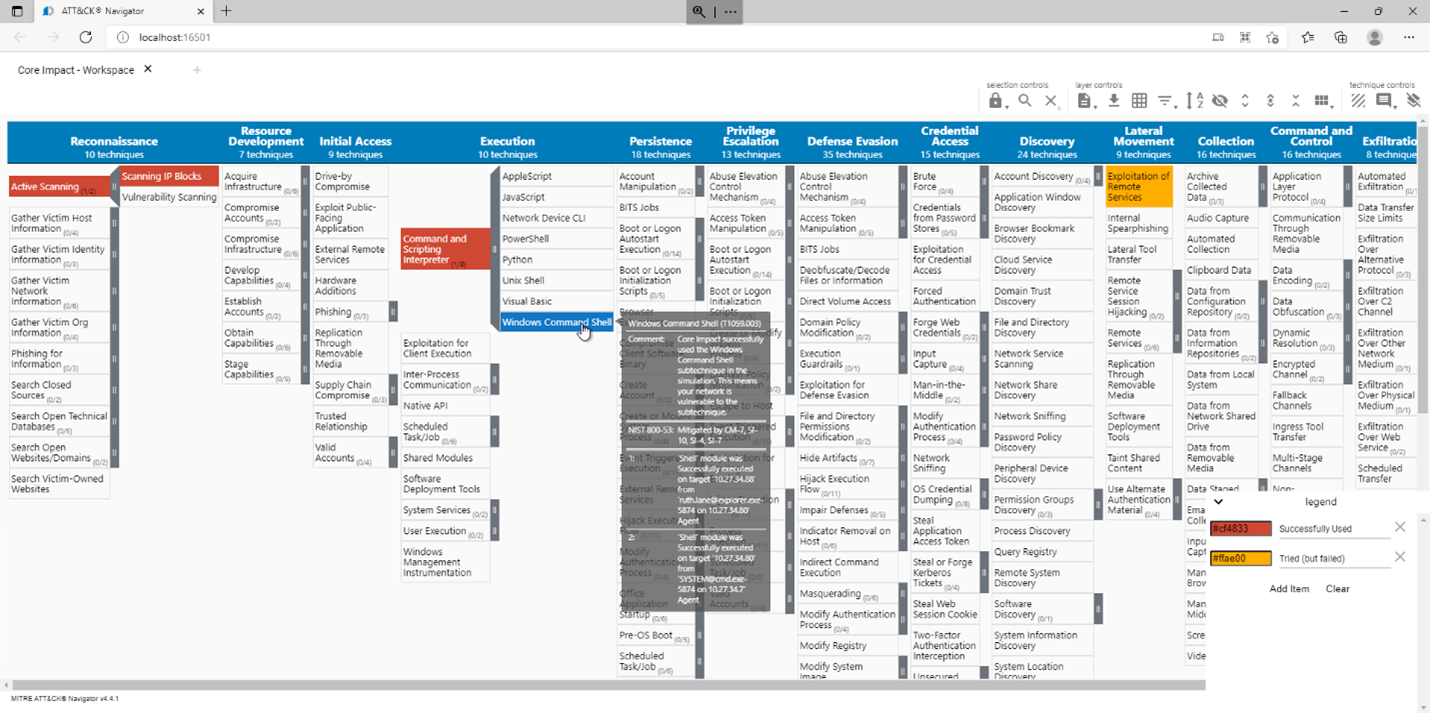 The MITRE ATT&CK Framework
The MITRE ATT&CK framework is a matrix of tactics and techniques used by real-world threat actors that has become a standard in defensive security, helping cybersecurity professionals create threat models to better prepare against risks that threaten the safety of critical data. Core Impact can now map and categorize every engagement in MITRE.
The ATT&CK matrix consists of 14 categories of tactics, including:
Reconnaissance
Resource development
Initial access
Execution
Persistence
Privilege escalation
Defense evasion
Credential access
Discovery
Lateral movement
Collection
Command and control
Exfiltration
Impact  
Each tactic includes multiple techniques used by threat actors, many of which align with Core Impact's capabilities. Since MITRE ATT&CK is a community effort, organizations or individuals can all contribute to the ongoing development of this matrix to ensure it's up-to-date with the latest tactics and techniques.
Reporting with MITRE
With each engagement mapped to MITRE, Core Impact 21.2 offers two new reporting options that utilize the MITRE ATT&CK Navigator layer output.
The ATT&CK Navigator Report
Based on the techniques executed during an engagement, this report uses the MITRE layer to classify and prioritize risk, and includes the option of exporting results with the ATT&CK Navigator JSON format.
The NIST 800 Navigator Report
Building on the impressive work being done by MITRE's Center for Threat-Informed Defense, this report offers a modified JSON output for organizations who want to align their activities with both ATT&CK and NIST's catalog of security and privacy controls, known as NIST 800-53.
Attack Map Enhancements
Core Impact's Attack Map is a network graph view that provides a real-time overview of attack chains, pivoting and any other activities completed during testing. The Attack Map is completely interactive and can be used as the primary working space for testers who prefer a fully visualized engagement experience.
See these new features in action in the Core Impact 21.2 overview video:
Want to see more Core Impact features in action?
CTA Text
Watch a demo for a full overview of this powerful penetration testing tool.
WATCH THE DEMO