Security Auditor
Simplified security policy management and file integrity monitoring software
Text
Security Auditor centralizes security administration across your cloud, on premise, or hybrid environment. Our agentless technology allows you to quickly enforce security policy adherence and mitigate the risks of security misconfiguration, a leading cause of data breaches. Security Auditor automatically protects new systems as they come online and continuously monitors those systems, identifying any configuration settings that don't match your requirements. You'll be notified of any policy exceptions and can make changes yourself from an easy-to-use, web-based console, which simplifies tasks and compliance reporting requirements. Or if you prefer more automation, you can run the FixIt function and let Security Auditor do the work for you.
Protect Your Data with Security Policy Management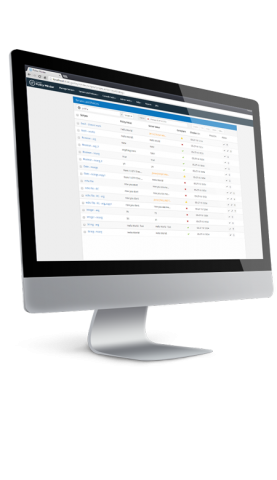 Auto Discovery
Security Auditor simplifies the identification and security configuration for your elastic cloud infrastructure by detecting new systems as they come online and by automatically applying the proper security controls.
Continuous Monitoring
Gain complete visibility into avoidable security errors by continuously monitoring your systems against your security policy. Security Auditor notifies you in real time of any policy exceptions.
Automatic Remediation
Save time with automated security administration. When out-of-compliance settings are found, you have the choice to fix them or let Security Auditor do it for you automatically.
File Integrity Monitoring
Receive alerts for any changes to file content, attributes, permissions or access rights you can take immediate action and help maintain compliance.
How Security Auditor Works
The wrong security settings in cloud environments often lead to data breaches. In fact, many cloud security professionals see system misconfiguration as the biggest cybersecurity threat. Public cloud makes it easy to deploy new systems whenever you want, but that makes visibility and enforcement of security policies almost impossible for security staff. And IT teams don't have time to properly configure and audit security profiles in these environments.
Security Auditor helps provide security and IT teams with the visibility and automation they need to ensure their cloud environments are properly secured at all times. Security Auditor automatically protects cloud servers and they data they house from the moment they are brought into the IT stack.
[Security Auditor] reminds me of any policy exceptions every day, so nothing slips through the cracks. We're doing more with less, and we don't want to go looking for the problems, we want them to come to us. [Security Auditor] accomplishes that for us.
Lead Systems Support Specialist, Amway
Secure Your Cloud Deployments

Security Auditor seamlessly integrates with public, private, and hybrid cloud deployments, including Amazon EC2 and S3. Security Auditor discovers the systems in your cloud infrastructure as they are created and then applies security settings to protect your cloud systems properly. Over time, Security Auditor continues to monitor and audit your configurations, making sure that your cloud systems are effectively secured from malicious attackers and inadvertent data breaches. Get information on blacklisted services, critical system file changes, remote access settings, and more.
Integrate Security & DevOps

Security Auditor gives you the visibility and security that your management teams require. As your DevOps team deploys systems to your on premise or cloud environment, including Amazon EC2 servers, Security Auditor will automatically apply security controls and audits, instantly reporting on what it finds. No matter what regulatory framework you are working with, Security Auditor's automatic application of security controls will alert you to vulnerabilities and misconfigurations.

Controls can be applied differently to different groups of systems based upon your preferences. For example, use one set of configurations for development systems and a more stringent configuration set on your production deployments. If desired, Security Auditor can even automatically change non-compliant findings to the desired configuration settings.
Security misconfiguration is a leading cause of data breaches.
CTA Text
Avoid poor system configuration. Protect your data with Security Auditor.
START A FREE TRIAL
Multi-Platform Security Policy Management
Ensure policy adherence on multiple platforms. Security Auditor automates security administration and compliance reporting for organizations running:
CTA Text
Ready to Get Started?
Find out how to start simplifying your organization's security policy management.
GET PRICING