Core Impact
Penetration testing software to safely uncover and exploit security weaknesses
Core Impact is designed to enable security teams to conduct advanced penetration tests with ease. With guided automation and certified exploits, the powerful penetration testing software enables you to safely test your environment using the same techniques as today's adversaries. 
Replicate attacks across network infrastructure, endpoints, web, and applications to reveal exploited vulnerabilities, empowering you to immediately remediate risks.
Simple enough for your first test, powerful enough for the rest.
Middle Column
Core Certified Exploits
Test with confidence using a trusted platform designed and supported by experts for more than 20 years.
Right Column
Centralized Toolset
Maximize resources by gathering information, exploiting systems, and generating reports, all in one place.
Watch a Short Demo
CTA Text
See product features in action in this quick demo of Core Impact.
Image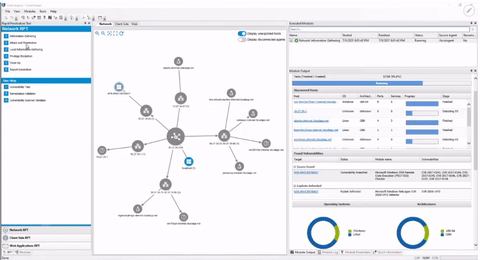 WATCH THE DEMO
Maximize Testing Visibility
Text
Use Core Impact's attack map to get a real-time overview of attack chains, pivoting and any other activities completed during testing. This network graph view provides visual insight that allows security teams to better determine the best path forward in the testing engagement.
Image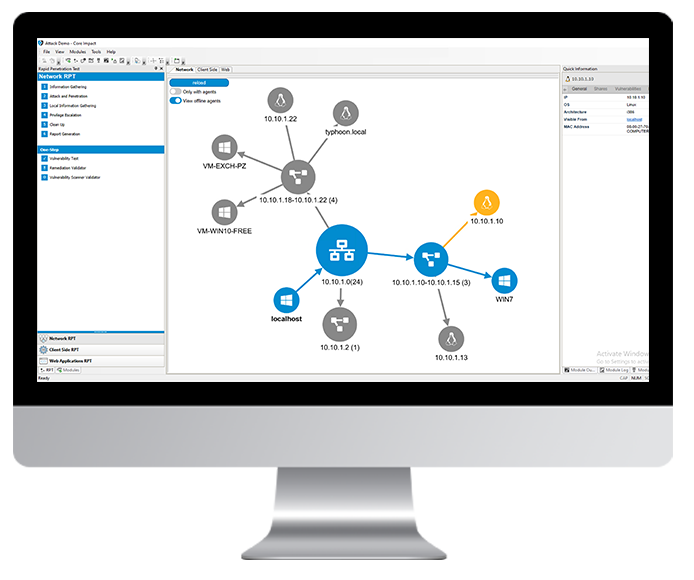 Offensive Security Bundles
CTA Text
Did you know Core Impact works with Frontline Vulnerability Manager and Cobalt Strike adversary simulation to create multi-layer offensive security solution bundles? These bundles allow you to assemble a proactive security portfolio that best fits your organization. They also provide efficiencies, such as centralization and reduced console fatigue, that will optimize your team resources and strengthen your security program -- all at a discounted price.
LEARN MORE
Common Use Cases
Image
Automate the Routine
With Core Impact, you can easily automate routine testing, including proving PCI compliance, to maximize your resources, reserving third-party testing for your most robust and complex requests.
Image
Give Your Vulnerability Scans an Ally
Core Impact validates vulnerabilities identified through more than 20 popular scanners, helping you prioritize remediation for your greatest security risks.​
Image
Measure Security Awareness
Use the ransomware simulator and Core Impact's dynamic phishing capabilities to find out which employees are susceptible to these attacks and which critical data is most at risk.
Image
Validate Remediation Effectiveness
Re-test exploited systems after a penetration test to verify that remediation measures or compensating controls are effective and working.​
"What takes us three hours to do manually takes ten minutes with an automated tool like Core Impact, so it makes my day easier."
Roger Colón, Jr., Chief Information Security Officer
See Core Impact in Action
CTA Text
Conduct advanced penetration tests with ease and efficiency. See how Core Impact can streamline pen testing in your environment by requesting a free trial.
REQUEST A TRIAL
Text
Image

CTA Text
Ready to Begin Using Core Impact?
Explore our pricing page to learn what Core Impact Basic, Pro, and Enterprise have to offer and find the right version for your needs.
VIEW CORE IMPACT PRICING PLANS