Three Presidential debates are now in the books and only two passing references to cyber security have been made. Monday night's final meeting before the election was a scheduled debate on foreign policy, which would seem a natural place to have a discussion on cyber threats and one that I eagerly awaited. However, it never materialized. At approximately 9:41ET President Obama stated that, "We need to be thinking about cyber security."  I respectfully disagree with the President's assertion that it's time to be thinking about it, the time for thinking about it has long since passed, it's time to be doing something about it.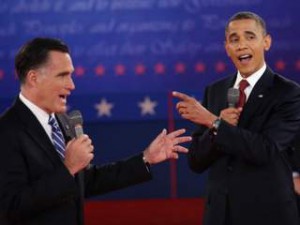 Governor Romney also weighed in on the topic about 40 minutes later when speaking about fair trade with China. He stated, "They're stealing our intellectual property, our patents, our designs, our technology, hacking into our computers, counterfeiting our goods." That is correct, but what is our strategy for dealing with this? We are now in the stretch run of the political season where everything from the price of gas to trade agreements, to the fate of Big Bird is seemingly up for debate.
Yet, the issue of cyber security remains mysteriously absent from the discussions.  This remains the case despite the fact that in the past couple of months Internet traffic to our nation's largest financial institutions was brought to a trickle by a denial of service attack believed to have originated in Iran, the NSA has reiterated their belief that we will experience a major cyber-attack against our critical infrastructure within 12 – 18 months, Al Qaeda has renewed its call for an electronic Jihad, and even the White House has been the victim of a cyber-breach. Despite all of this, little to nothing is being mentioned on the campaign trail. Perhaps this isn't a topic that inspires voters like the economy, energy prices or social security, but when the subject turns to defense, the cyber battle needs to be front and center. However, we are more likely to hear about horses and bayonets between now and Election Day than a topic of critical importance to our interests at home and abroad.
The reality of the situation is that we are under daily attack by foreign entities and the new battlefield is the server rooms of our largest corporations, critical infrastructure, and government installations. It's time to get serious about cyber security.