We're proud to announce that Core Insight has received another five-star rating from SC Magazine. In its review of vulnerability assessment products, editors called Core Insight the "gold standard" and concluded that "Core Insight is worth every penny."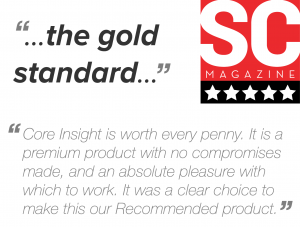 "It is a premium product with no compromises made, and an absolute pleasure with which to work. It was a clear choice to make this our Recommended product." Editors especially appreciated Insight's ability to consolidate and prioritize vulnerability data, noting that the solution ingests "a long list of vulnerabilities, sometimes thousands, and tells you which ones you absolutely need to fix. In our case, we had narrowed down 12,000 vulnerabilities to about 80 important ones." Core Insight has been enjoying quite a bit of industry recognition lately!
In November, Core Insight won Information Security Magazine and SearchSecurity.com Readers' Choice Award, coming out on top in the "Best Vulnerability Management Products" category. Award winners were selected based on an extensive, in-depth survey of more than 1,700 information security executives and managers.
In October, the South Carolina Department of Health and Human Services received a CSO50 Award for its work with Core Insight. Each year, this award program recognizes 50 security projects and initiatives that have delivered groundbreaking business value through the innovative application of risk and security concepts and technologies.
For more details, check out SC Magazine's full review. To learn more about how Core Insight can help you eliminate vulnerability data overload, check out our Core Insight overview page and request a demo today!